First of all holy pancakes! All I've seen today are paleo pancakes. I guess that bag of almond flour in my cupboard will get some use...
Finally
.
I've been snapping pictures with my phone of things I've been eating for awhile now. As I was snapping today I decided to go ahead and do a food journal entry. I can't let all those pictures go to waste! So here's what a typical day of 90/10 paleo looks like.
Breakfast: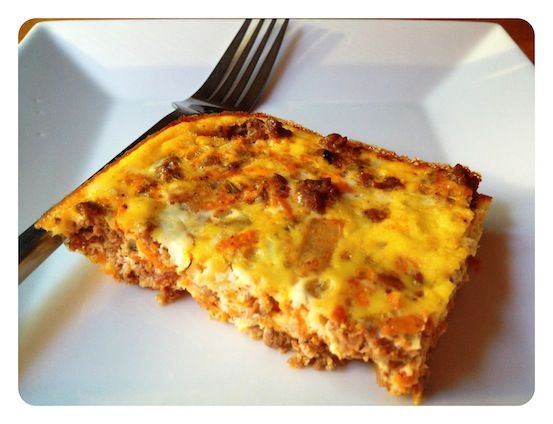 Southwestern Frittata
from Everyday Paleo. This recipe is amazing. It reheats really well so I just keep it in the fridge for an easy breakfast, lunch, or dinner.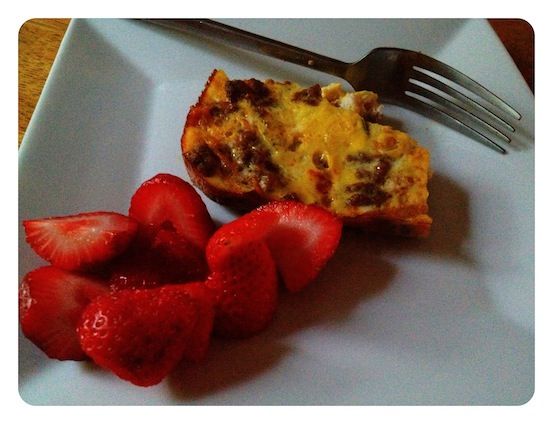 Paired with fruit for breakfast and veggies for lunch or dinner. Strawberries this morning!
Gym:
Today I worked out with my personal trainer. We did
lawnmower rows
(
45lbs-10reps-3x with 30sec rest between sets
),
decline chest press
(
30lbs-10reps-3x with 30 sec rest between sets
), and
assisted pull ups
and
tricep dips
(
I can't remember the weights on these!
). Plus 30 minutes on the
arc trainer
. It's amazing what videos you can find on the internet!
Snack:
Nuts! I think there were pecans, cashew, walnuts, and almonds in there.
Not very many. Probably a closed handful.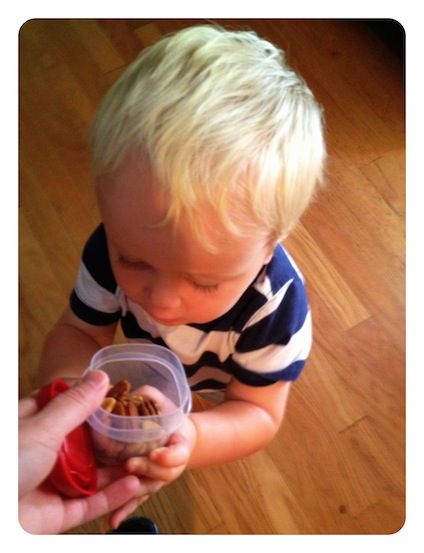 While taking the pictures my little one saw me and wanted them. My kiddos love mixed nuts so I ended up making 3 of those little cups.
Lunch:
There's where my 90/10 came in. Lunch was eaten out at Atlanta Bread Co. I had the balsamic bleu salad which was greens, onion, tomato, apples, chicken, walnuts, dried cranberries, blue cheese, and balsamic dressing. I'd say 90% of that was paleo. Not the best but not too bad!
We don't eat out nearly as much as we used to so I'm just happy to do what I can when we do eat out.
Snack:
Atlanta Bread is right next to a Starbucks. I used to get soy vanilla lattes all the time. I switched to dark roast coffee with cream. Plus an occasional pumpkin spice latte. This time it was just coffee and cream.
Dinner:
Since going paleo I've been trying to find things that all 4 of us can eat to some extent. I wanted to be able to make some minor changes to our normal meals to accommodate the paleo diet.
I stopped by Williams and Sonoma the other day and grabbed this little guy, a julienne peeler.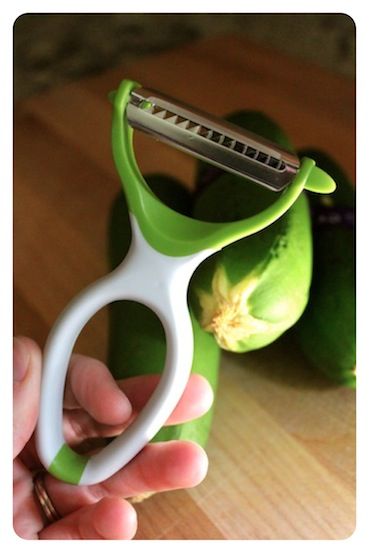 Amazingly, it was only $8. It was well worth it!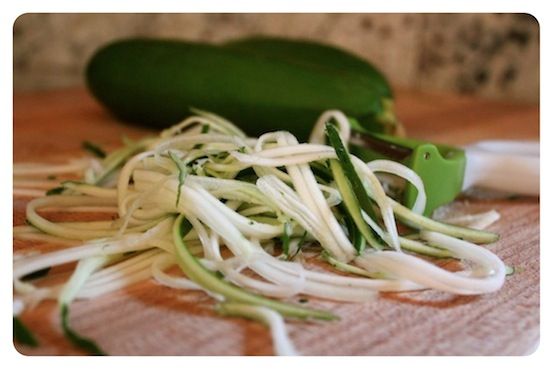 Zucchini noodles! I just put them in the microwaveable bowl with some plastic wrap over it. Nuked for 2 minutes.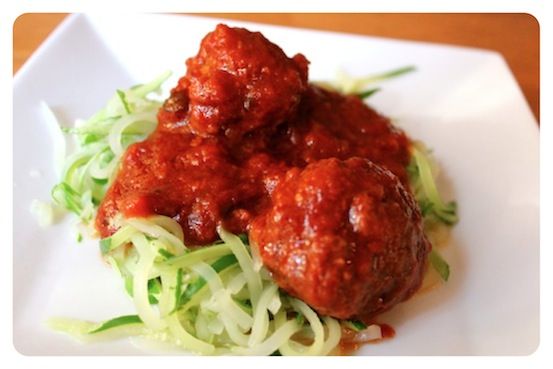 I just used our basic meatball
recipe
with some organic bertolli marinara sauce. I have yet to make spaghetti and meatballs totally paleo. Soon enough!