Y'all I'm in a little bit of a rut.
I eat too many pancakes. I had one this morning for
breakfast
.
Gym:
30 minutes with my trainer. We used cables and did back the entire time. It was
HARD
. I'll be sore tomorrow for sure. Plus 30 minutes on the stair master.
Lunch
was a salad eaten out and I forgot to photograph it.
I didn't forget to take a picture of my coffee though!
Priorities people.
I also caught myself on camera sneaking in a treat.
A heath bar cookie. Ugh. I felt bad eating it but I think it might have been worth it! I haven't had a cookie in awhile.
Dinner:
Both of my kids napped this afternoon so I made most of our dinner around 3:00.
I baked chicken, chopped broccoli, and roasted a spaghetti squash.
There has got to be an easier way to cut a squash in half.
Anyone got any ideas?
I also made
sunshine sauce
.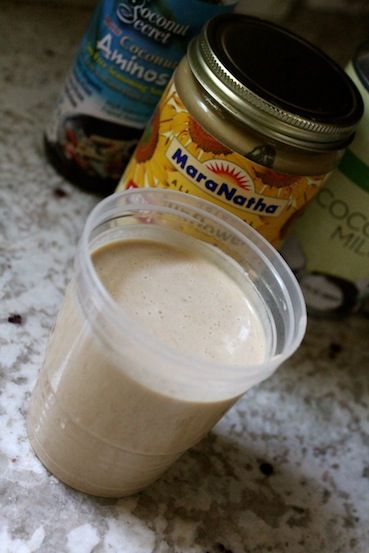 Paleo pad thai
for dinner. One of our favorites!
Chopsticks included.
Since it's fall I've been seriously craving a pumpkin muffin. I've been splurging on pumpkin spice lattes once in awhile but can't bring myself to eat a muffin.
I tried this
recipe
last night for pumpkin cake bars.
I didn't have the ingredients for the icing but they didn't need them. These were
AWESOME.
The kiddos liked them!
What are you guys eating for breakfast? Hopefully not a pancake everyday!