Seriously Kristen what have you done all week long? Why is it that when you don't have anything planned everything comes up?
Here's a few things I've been eating this week:
Breakfast scrambles (
whatever we had for dinner mixed with eggs
), beef tacos, dessert (
dates and coconut flakes
),
curry meatballs
with cauliflower rice, and
paleo pancakes
.
I've been battling a sinus thing so my appetite has been a little low.
I've eaten a few
paleo pancakes
for dinner.
Our favorite dinner this week were taco wraps.
We just put an eye of round roast in the crock pot with peppers, onions, and taco seasonings.
Then we wrapped it in boston lettuce and added guacamole, salsa, and caramelized onions.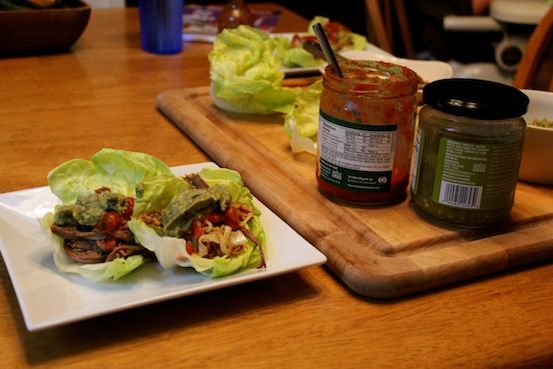 I ate four of them they were so good!
We've got the marine corps ball tonight and a busy weekend planned.
What has been your favorite thing you've eaten this week?