Last night we were out and about so we stopped by Whole Foods. I am only telling you this because the items in my cart were kind of funny…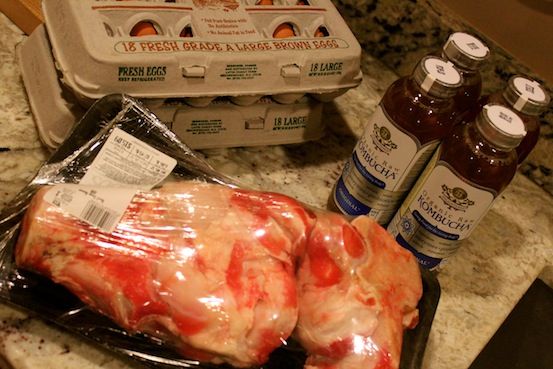 Typical paleo. Eggs... so many eggs, kombucha, and bones for bone broth!
Breakfast:
I have
finally figured
out something I want to eat in the morning.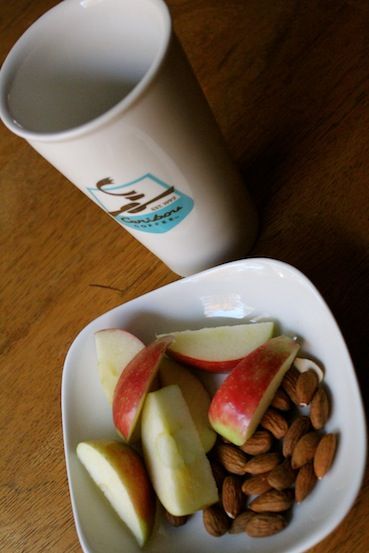 1oz of almonds (
I measured it
), an apple, and coffee with almond milk.
I put it on the counter as soon as I got up so I just grabbed a little at a time while I got ready this morning.
Gym:
Pilates
Lunch:
Leftover paleo Thanksgiving.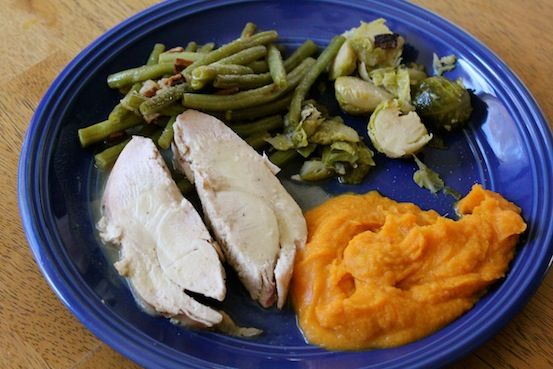 Smoked turkey, paleo gravy, brussels sprouts, green beans, and sweet potato mash.
Dinner:
For dinner I roasted some chicken quarters. I made a mix of fresh minced garlic, salt, pepper, and olive oil and rubbed it on the chicken. I put them in a 9x13 dish with 1/2 cup of chicken stock. Baked at 425 for about 40 minutes.
Served with
collards
and leftover
sweet potato mash
.
Since I didn't post yesterday here is my meal plan for the week:
Meal Plan #7
Monday
- Roasted chicken quarters, collards, and sweet potato mash
Tuesday
- Pulled pork and collard greens
Wednesday
- Thanksgiving meatballs and butternut squash soup
Thursday
- Leftovers
Friday
- Breakfast- Sausage scrambler
Saturday
- Out to dinner
Sunday
- Beef Roast Tacos
What is your favorite "to-go" meal?