There are quite a few bloggers taking a blog day of silence today. I have pretty much spent the whole weekend in my pajamas, curled up in a blanket with my kiddos and husband grieving. I've had trouble sleeping the past three nights and have ended up crying myself to sleep. The tragedy has taken a toll on my emotions and made me reevaluate my priorities.
I read a blog post yesterday and I cannot remember who it was from but it basically said there wasn't much we could do. We can complain and get angry. We can cry and try to understand why. We can also take a day of silence. The blogger wrote that one thing we can do is restore some faith in humanity. So many people are out for themselves nowadays. I'm guilty.
Are you
?
I don't know about you guys but I feel like I need to do
something
. I need to change my way of thinking. I need to be nicer to people and be more considerate. I haven't quite figured out what little things I'm going to do but I know I'm going to start with
operation beautiful
notes.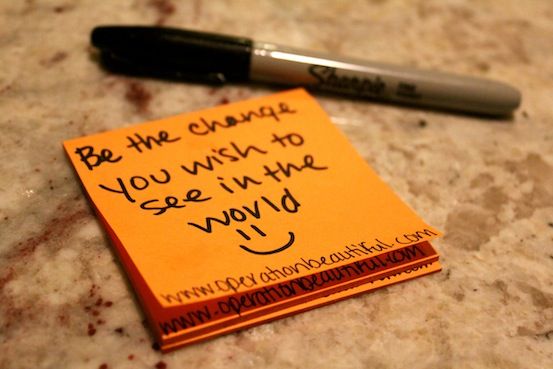 How can you help restore the faith in humanity or brighten someone's day?