We ripped the bandaid off. I am normally pretty good at deployments but this one has hit me really hard. Which is why I've been laying low on the internet for the past few days. All I wanted to do today is stay on the couch hiding under a blanket. Thankfully, I didn't do that. I went to the gym, red and puffy eyed, and got my butt kicked by my trainer. Then I went to a playdate and to Target. The kids were angels and I was fueled on coffee and endorphins. It couldn't have been a much better day and I really needed it!
Breakfast:
Paleo pancake
, sun butter, banana, and
salted cinnamon coconut chips
. One of the best flavor combinations ever.
Gym:
A killer leg workout with my trainer plus 30 minutes walking on the treadmill on an incline.
Lunch:
Leftover cabbage rolls. For this I used
Ally's
slow cooker cabbage roll
recipe
. The only thing I did differently was added a cup of sautéed riced cauliflower instead of the brown rice. It was delicious! Mine didn't turn out as pretty as hers.
Dinner:
What do they call the taco flavored hamburger helper? Nacho? Taco? Fiesta? Ehh let's call this one taco hamburger helper because it tastes just like the insides of a taco.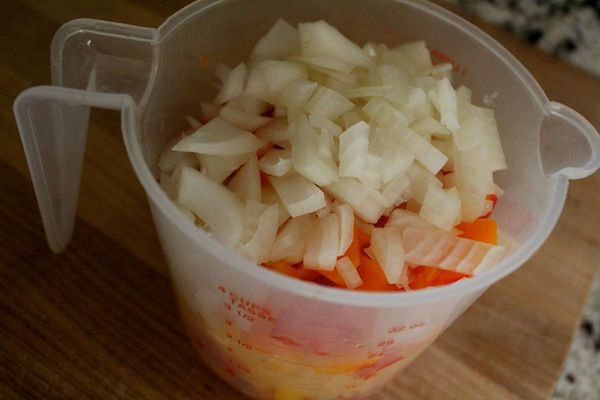 Taco Hamburger Helper
1lb ground beef
4 cups peppers chopped (
it ended up being 3 peppers
)
1/2 cup onion
1 teaspoon coconut oil
1 garlic clove minced
1 tablespoon
taco seasoning
*
1/2 cup of tomato sauce
Boston lettuce for wrapping
Sauté the peppers and onions in the coconut oil until they are soft. Add the garlic and cook until the garlic is fragrant. Add the beef and season with taco seasoning. Cook until the beef is cooked all the way through. Add the tomato sauce and let simmer for 10 minutes. Store in a container in the fridge or wrap up in lettuce leaves. Make sure to garnish with avocado because I didn't and I really missed it!
*I make my own
taco seasoning
and you should too!
It tastes just like the packets of taco seasoning.
What do you do to get yourself out of a funky mood?