Since starting paleo it seems like we eat such a variety of things. It is still pretty new to me so I am constantly trying new recipes. It seems as though we never eat the same thing twice anymore! I thought it might be interesting to do a classics post. Not a "
my favorite paleo meals
" post (
hint for Friday!
) but just some things we eat on a regular basis. So today I ate all of our classics.
Breakfast:
DUH.
Y'all should have seen that one coming. My classic
paleo pancake
with sunbutter,
salted cinnamon coconut chips
, and banana.
Gym:
Legs!
I did a classic (
for me
) leg workout. Extensions on the machine with 20 walking lunges holding 20lb dumb bells x3 sets. Plus the glute machine with 20 air squats holding those dumb bells x2 sets. And then the leg press machine- 7 normal presses, 7 super slow, 7 upper half, 7 lower half x2. Plus 30 minutes of the stair climber.
Lunch:
Hamburger helper
with broccoli and carrots sautéed in coconut oil. Plus avocado on top. I've been eating this a lot lately. Sometimes with egg in it.
Sometimes with
sunshine sauce
on the top...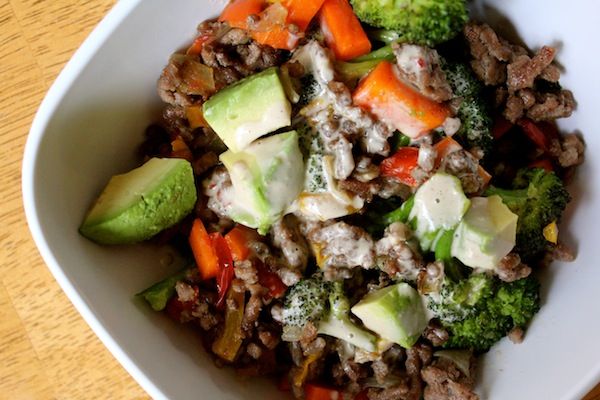 We keep a jar in the fridge at all times. It goes with everything!
Dinner:
Paleo pad thai
. This is a staple in our house!
What are your classic meals?