Breakfast:
Since I did a Tuesday Things post yesterday I figured I'd share some of my eats from today and yesterday.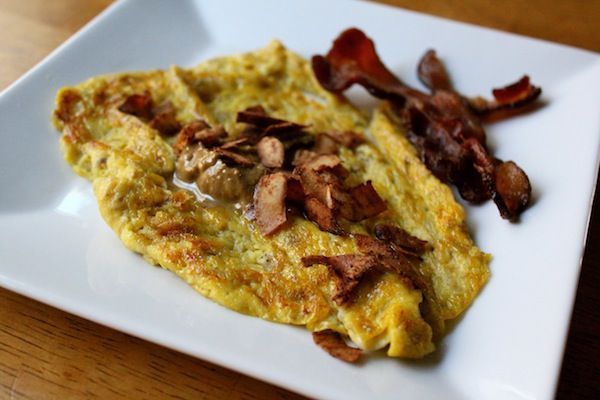 Yesterday's breakfast was a paleo pancake topped with sunflower seed butter and
salted cinnamon coconut chips
. Plus a side of bacon.
My friend said she tried a paleo pancake the other day and it ended up mushy. This pancake was mushy and falling apart. I know why- too much banana. I used a whole good sized banana plus one of our chickens eggs which are on the smaller size. It's better to have a little more egg (the binder!) than banana. Plus you can tell by looking at it that I cooked it at too high of a heat too quickly. I usually put the pancake in the pan and then go dry my hair. That's how long it takes to flip. Low and slow.
If you are new to making paleo pancakes I think you either like them or don't. I hate to break it to you but they do not taste like regular pancakes. It's like spaghetti squash. Does it taste like spaghetti?
NOPE
. You do get used to the flavor and texture though. You actually learn to like it. Does it beat hot pasta and your moms homemade spaghetti and meatballs. I'll let you answer that one. You have to remind yourself that it's the health benefits that matter.
If you are really looking for that pancake texture try the
almond flour pancake
and don't skimp on the toppings. Splurge a little and add a drizzle of maple syrup until you get used to it.
Today's breakfast was a repeat of
Monday's
.
That ground pork mixture I made on
Sunday
with two eggs.
Gym:
Tuesday was legs and 30 minutes of cardio. Today was an hour of body combat.
Lunch: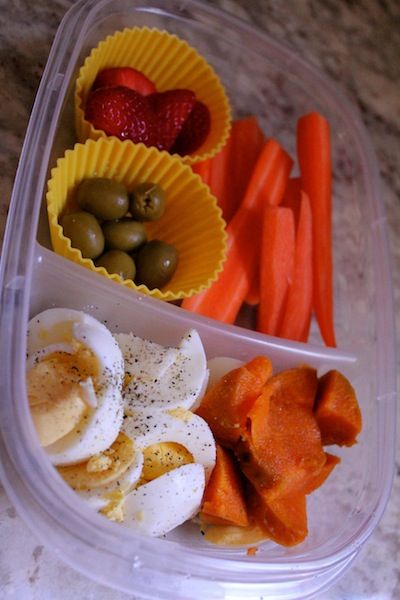 Yesterday I packed my lunch to go. Two hardboiled eggs, half a sweet potato, carrots, strawberries, and olives.
Today's lunch was a repeat of
Monday's
. See a trend here?
Beef stir fry with sunshine sauce made on
Sunday
.
Snack:
This afternoon the kids and I shared a huge apple!
Dinner:
Unfortunately I didn't photograph last nights dinner or tonights.
Lame I know
.
What do you pack in your lunch?