This was the easiest day ever for food. Most of it was already made during my
meal prep
!
Breakfast: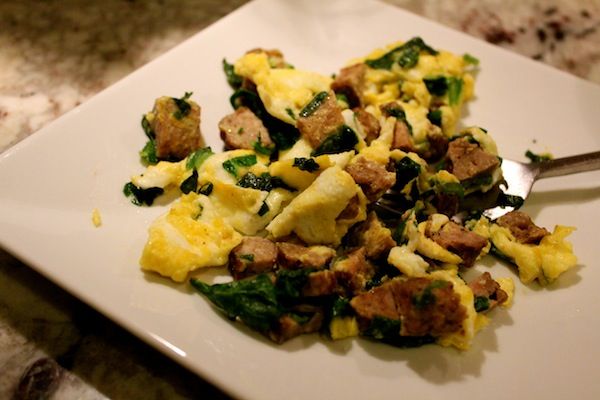 One egg, two egg whites, spinach, leftover sausage. Plus unpictured coffee.
Gym:
Push day- chest press, tricep dips, flys, tricep kickbacks, shoulder press, lateral raises. Plus 30 minutes on the treadmill just brisk walking at an incline.
See the snacks missing? I'm cleaning up my diet. No snacking unless I need it. That breakfast was filling!
Lunch:
Pork sausage, peppers, and onions cooked in coconut oil- made on Sunday!
Dinner:
Tilapia grilled on my george foreman and roasted carrots- made on Sunday! I squeezed some fresh lemon juice on the fish.
Do you eat regular snacks? If so, what do you eat?