I didn't post yesterday because LB got tubes in his ears! What a stressful thing to go through as a mama. I know it's a normal procedure but to hand your baby over to be put under anesthesia is a little nerve racking. He did really well!
This kid didn't skip a beat. He has been perfectly fine since about an hour after the surgery.
For not having a post yesterday I've got some good food pics today!
Dinner last night:
Grilled tilapia, roasted carrots, and sautéed broccoli. I need to show you guys how I make that broccoli. Whenever I make it we all inhale it. Kids included. So different from steaming and roasting (
my kids won't eat it those ways
).
I got a little bit of crap on Instagram last night when I posted my fish picture. By crap I mean lecturing. I don't know if the tilapia is farmed or not. I know I should be eating wild fish but I really don't like fish. Like really really don't like it. If it tastes the littlest bit fishy I'll gag. No joke. I keep trying to like it but I just can't get over the taste!
My husband on the other hand loves fish. He grew up on the coast of North Carolina so he grew up eating fish. I grew up in Ohio where we eat Red Lobster. He has been trying to get me to eat fish for 13 years. Just recently I've been eating tilapia but only if it's grilled... and only if it has fresh lemon juice on it.
Needless to say, the hubs got me some tilapia filets before he left from the Whole Foods fish counter. I don't know where it's from, who caught it, who raised it, whether it ate organic, or was humanely killed. I'll look into it more if I get some more.
Breakfast (today):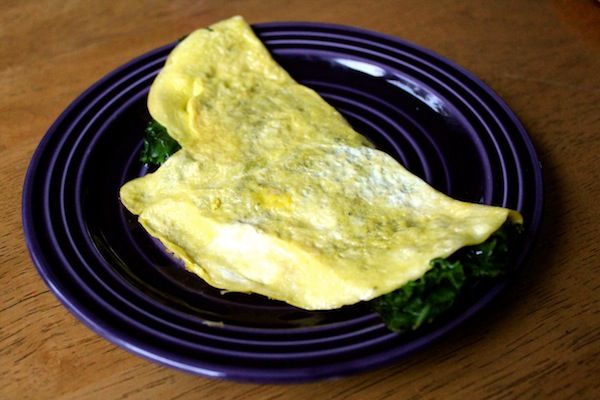 One egg, one egg white, and
massaged kale
all cooked in ghee. Hey! Massaged kale tastes awesome cooked! I've also been getting some questions about why I'm not eating yolks...
Eeeeeshhhh everyone thinks they know everything about paleo don't they?! You know what? I
LOVE
the confrontation! Call me out on things! That's how we all learn and that's how you guys keep me on track. Plus I'm a member of the paleo police too.
I'm not eating yolks because I'm watching calories by the way. I've got 6 months to get super lean before the hubs gets home.
Plus coffee this morning!
Gym:
45 minutes of yoga. I went to that new yoga studio and they had a sub for the class I was taking. The sub sucked. How do you handle that?! I walked out after 45 minutes but still had to pay full price for the class. I didn't know there was a sub until the class started. Redonk.
Snack: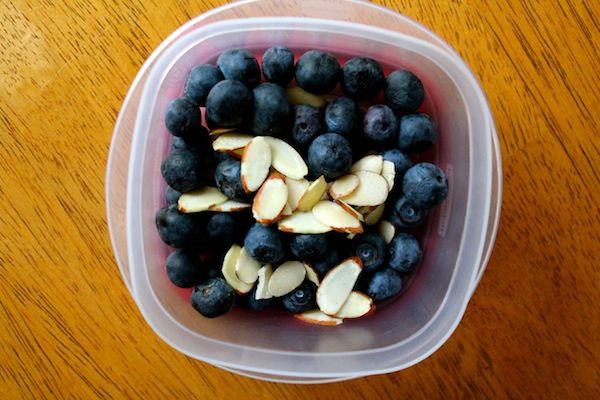 Organic blueberries and slivered almonds.
Since I got out of yoga early I went grocery shopping at Whole Foods.
I snacked on these guys on my ride home.
These are totally paleo and SO good.
I don't know what mix they put on them but they almost taste cheesy.
Lunch:
A grass fed beef slider (
leftover from Sundays meal prep!
), bacon, and
massaged kale
. I nuked them all in the microwave.
Dinner:
It's Friday so we did pizza and popcorn! If you guys have kids you should really do this with them. My kids get so excited for this... and honestly so do I.
This is our favorite pizza and I did have a few pieces.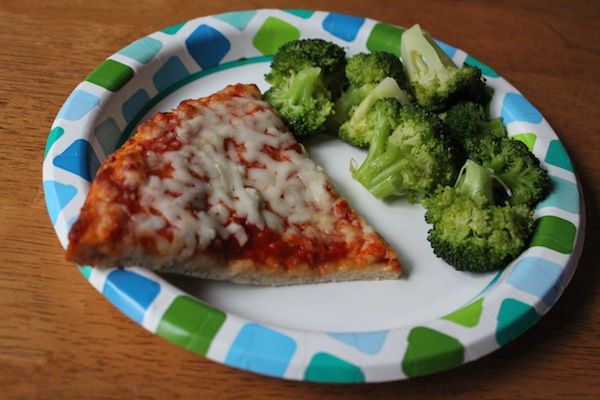 This times two!
I also had popcorn and a sprinkle of M&M's.
What is something that you do with your family all the time?