My meals have been all over the place this weekend. I've stayed on track but the food I've eaten has been weird and random. That's what happens when we are busy and I haven't prepped enough.
Today I felt more in control. I ate well, got a good workout in, my kids are well (
finally!!!
) and I am planning on going to bed early. Life is good.
Breakfast: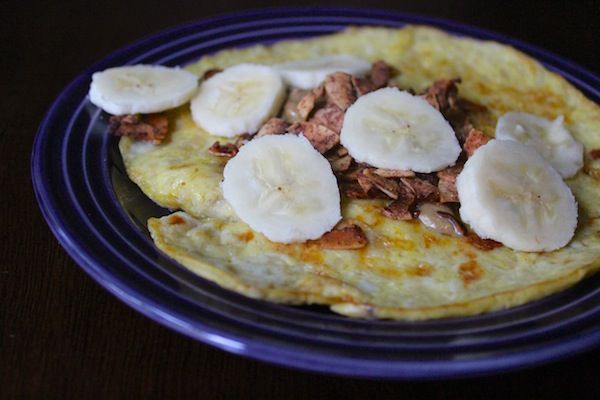 Basic paleo pancake
(
one egg+one banana
) with sunflower seed butter, banana, and
salted cinnamon coconut chips
on top.
Lunch:
I have been on a huge salad kick this weekend. It's strange for me because I really don't like salad! It's because I found a new little trick. I grilled some chicken, cooked up some bacon, and toasted some pecans this weekend. I chopped everything up and put it in one big container. It's such an amazing combination! Now I've got my salad protein topping ready to go! I just add the veggies- today avocado, local tomato, and local greens. Plus I dressed it with balsamic and olive oil. Lunch was ready in 5 minutes.
Dinner: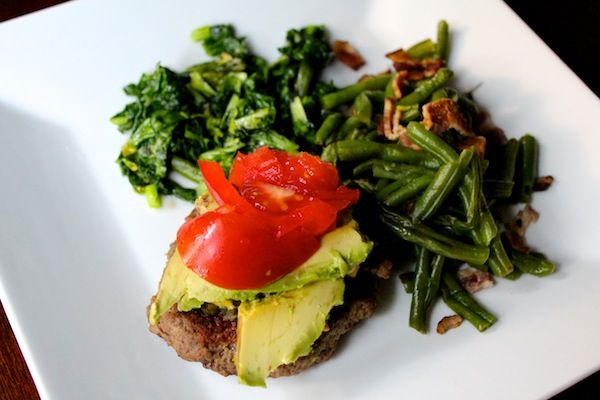 Leftovers! A leftover burger from this weekend topped with avocado and tomato. Plus bacon green beans and sautéed tatsoi. Check out that tomato. That's from my produce box! So is the tatsoi.
YUM!
What's something yummy you ate this weekend???