Breakfast:
Coconut milk, chias,
salted cinnamon coconut chips
, banana, nuttzo.
Lunch:
Hamburger helper
, cauliflower rice, kale, and avocado.
Dinner:
Tilapia tacos on
cauliflower tortillas
topped with salsa and avocado. Plus sautéed veggies.
Breakfast:
Smoothie made with cherries, almond milk, almonds, banana, chia seeds, and a raw egg.
Lunch:
Lazy girl lunch- Kraut and hot dogs cooked on low in the crockpot for a bit.
Dinner:
I snapped a picture of my dinner with my phone last night and somehow it's gone. Who knows. I had a burger and a sweet potato.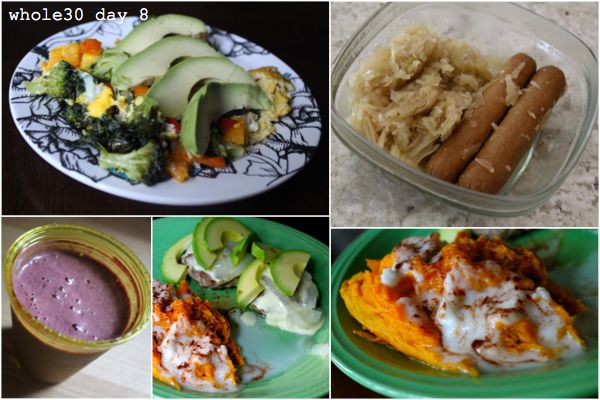 Breakfast:
Egg scrambler- two eggs, kale, peppers, onion, broccoli, and avocado.
Lunch:
Leftovers.
Snack:
Smoothie! Recipe soon!
Dinner:
Pork burgers topped with
paleo mayo
, caramelized onions, and avocado. Plus a sweet potato topped with coconut butter and cinnamon.
So I finally broke out my hand blender to make some
mayo
for those burgers today...
Umm hello
??? What took me so long to try this?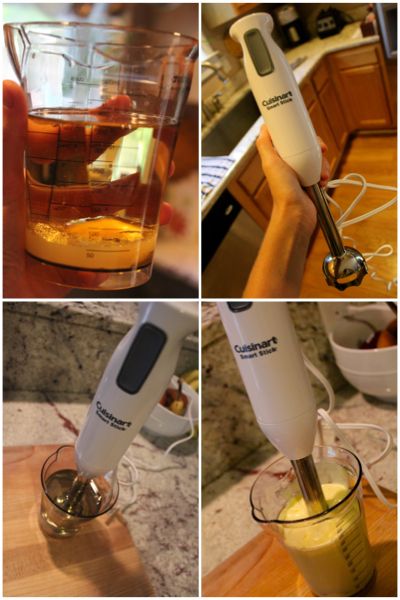 This was done in like five minutes.
So my appetite has been really weird lately. I haven't been hungry at all in the morning. As you can see my breakfast have been small and when I do make a big breakfast this is what it ends up like-
I definitely go through hormonal changes during the month. One week I'm not hungry at all and then the next I want to eat everything! I've noticed it more and more by doing these Whole30's. Isn't that what this is all about? Learning about your body's relationship with food?
Are you a big breakfast eater?