It's been smooth sailing so far. Like I've done this before or something...
Breakfast:
Day 2
- Eggs, peppers, onions, and broccoli cooked in ghee. topped with avocado.
Day 3
-
Paleo parfait
with pineapple, blackberries, walnuts, chias,
salted cinnamon coconut chips
, and coconut milk.
Lunch:
Day 2
- Smoothie made with cherries, almond milk, banana, and sunflower seed butter. Plus a couple dates filled with
Nuttzo
.
Day 3
-
Broccoli fritter
topped with a burger and avocado.
Dinner: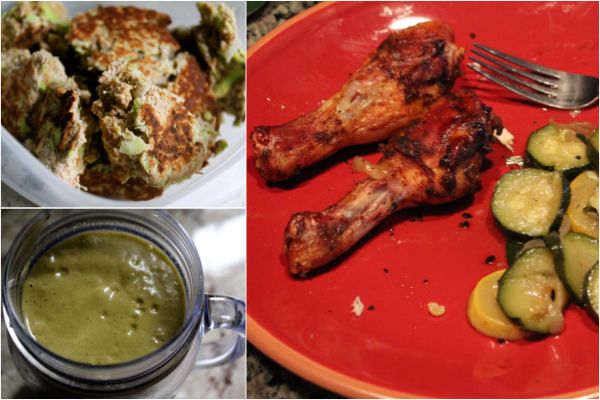 Day 2
- Grilled chicken legs plus zucchini and squash cooked on the grill.
Day 3
- Green smoothie made with coconut milk, banana, sunflower seed butter, kale, and avocado. Plus I picked at some
broccoli fritters
. I was nervous around dinner time and when I get nervous I don't eat.
Are you a stress eater?
When I'm upset or nervous I can't eat. When I'm bored, overwhelmed, or sad that's all I want to do is eat everything in sight.