I feel so much better! Except I can't taste anything. You know your love for food is extreme when your loss of taste ruins your entire day. That may sound dramatic but I've felt such a mix of emotions today. Sadness, frustration, and anger. What in the world?! I'm praying tomorrow is back to normal!
Here's what I ate today.
breakfast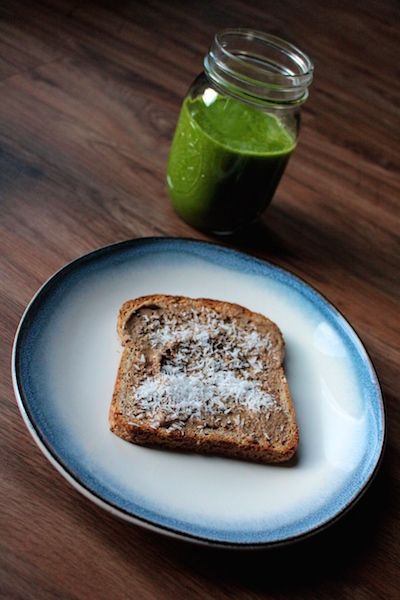 I recreated my smoothie from
yesterday
(
kale, pineapple, mango, banana, and coconut water
). It was even better! Take that Whole Foods. Plus Ezekiel toast with almond butter and coconut.
lunch
I ate breakfast at 7 and didn't eat lunch until 2. I just wasn't hungry and my lack of taste was frustrating. Around 2 I reheated some taco chicken, topped it with salsa, and ate it with plantain chips. Didn't taste a thing! I could feel that the salsa was cold but that's about it.
dinner
Same thing happened with dinner. Same taco chicken, lettuce, salsa, and cheese on a corn tortilla.
Being sick is no fun!
Please tell me what you ate today. Let me live through you!