Breakfast: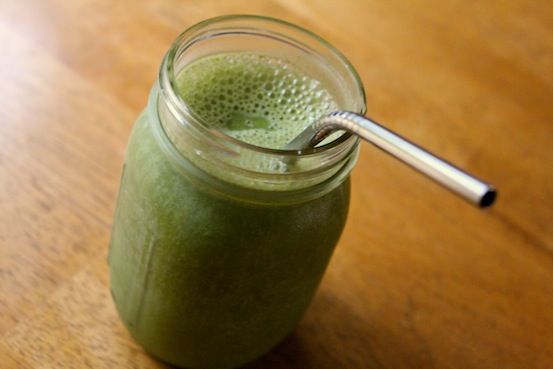 My appetite has been hit or miss in the morning anymore. It's kind of weird. Usually as soon as my feet hit the floor I'm ready for breakfast. That hasn't been the case lately. For about a month now I'm usually good with just a cup of coffee until 10ish. That makes workouts difficult.
This morning I tried a green smoothie. It was frozen spinach (
thanks Cathy for that idea!
), frozen banana, unsweetened almond milk, and sunflower seed butter. It was perfect! It wasn't too heavy and got me through my workout.
Gym:
Legggggs. Why are legs so hard? I did a mix of free weights, body weight exercises, and weight machines. Plus 30 minutes walking on the treadmill.
Snack:
An unpictured cherry pie larabar.
Lunch: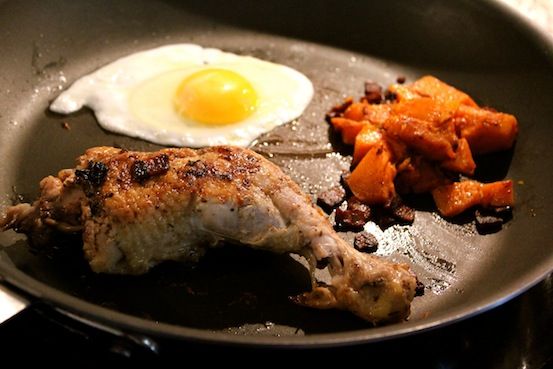 I threw some
leftovers
in a pan plus a fried egg.
The egg was so good on the squash!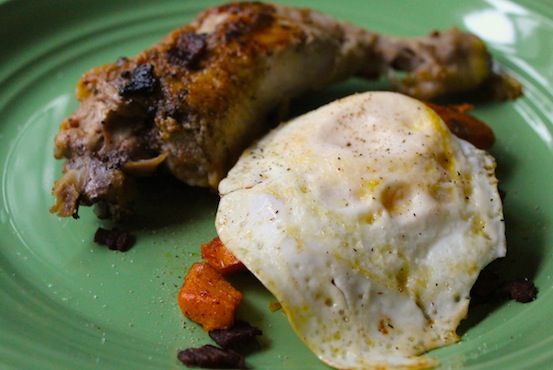 Dinner:
I made dinner early in the day and portioned it out into containers.
Meatloaf and sweet potato mash.
Two dinners and two lunches.
Meatloaf (
topped with avocado
), green beans, sweet potato mash...
The meatloaf:
1lb grass fed beef
1 beaten egg
1/2 cup almond flour
1/4 cup medium salsa
1 tablespoon
taco seasoning
1/4 cup finely chopped onion
1 garlic clove finely chopped
Baked for 20 minutes at 350* in jumbo muffin tins.
The sweet potato mash:
Four sweet potatoes boiled until soft. I put them in the vitamix along with 2 tablespoons grass fed butter, a 1/2 cup or so of chicken stock, and 1t salt.
The husbands green beans:
3 strips of chopped up bacon cooked in a pot. Add 1lb green beans and a few cups of chicken stock. Enough to boil the green beans and not steam them. Cooked until desired tenderness.
That dinner was 100% paleo and so comforting on a cold rainy day!
Are you a big breakfast eater?