I'm new to twitter. It's confusing! Did you guys see my tweet yesterday?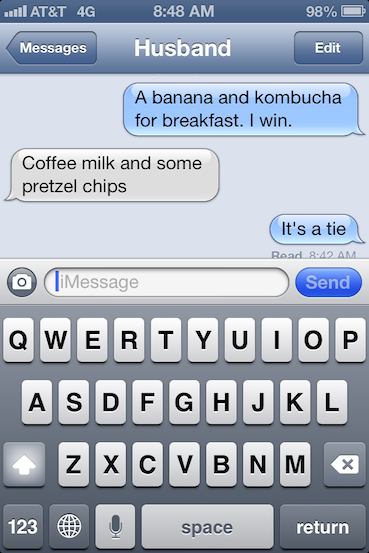 I sent the same message to my hubs.
We seriously needed to go grocery shopping.
We got our two weeks worth of meat and random things. Plus a weeks worth of produce.
We got:
2 packs of local bacon
2lbs natural ground turkey (
They don't have organic? Weird.
)
2lbs grass fed ground beef
2lbs local ground pork
2lb grass fed eye of round roast
3lb local pork shoulder
2 gallons of whole milk (
for the kids
)
Organic half and half (
for our coffee
)
Grass fed butter
Grass fed whole milk yogurt (
for the kids
)
32 eggs
Local honey
Organic chicken stock
Salsa
Organic tortillas (
kiddos
)
Kashi waffles (
kiddos
)
Kombucha
Some other random things and some blogger stuff: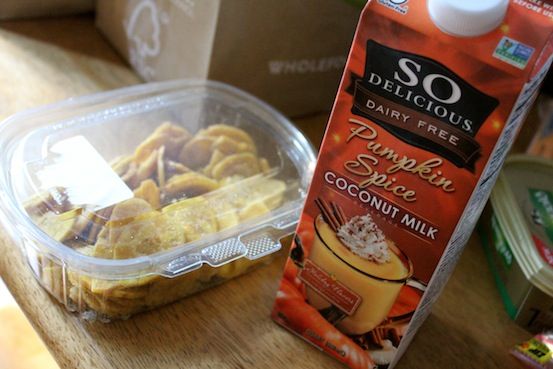 Thanks for the ideas
Danielle
! They are both yummy!
The husband went on a mini vacation yesterday and needed breakfast and lunch packed. I figured this would be a good everyday list of some on the go snacks.
Here's what I packed him:
Pistachios, a throwaway/recyclable water bottle (
so he doesn't have to keep up with his
), strawberry kombucha (
check out his first kombucha drink- he didn't like it at all
), clementines, mixed fresh fruit, 1/2lb of turkey, beef jerky, and a larabar. The turkey he was going to eat for breakfast so we didn't need to worry about it keeping cold.
Breakfast:
You guys guessed it. A paleo pancake. One egg mixed with 3/4 mashed banana.
1t coconut oil in a pan with the pancake mix.
Covered in toppings!
Sunflower seed butter, 1/4 banana, coconut flakes, flaxseed, and pecans.
Gym:
Chest press, machine fly, pushups, cable fly- 20 reps 4 times. Plus 20 minutes of cardio on the treadmill.
Lunch:
Eaten out at a hibachi restaurant. I ordered the chicken hibachi with double veggies instead of rice.
Dinner:
Tacos lettuce wraps. 1lb ground turkey with 2 tablespoons
taco seasoning
.
Homemade
taco seasoning
.
Wrapped in lettuce topped with avocado and salsa. I ate 4 of them!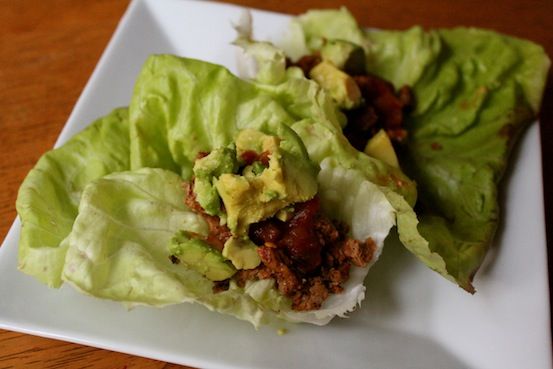 What are your favorite on the go snacks?