Breakfast: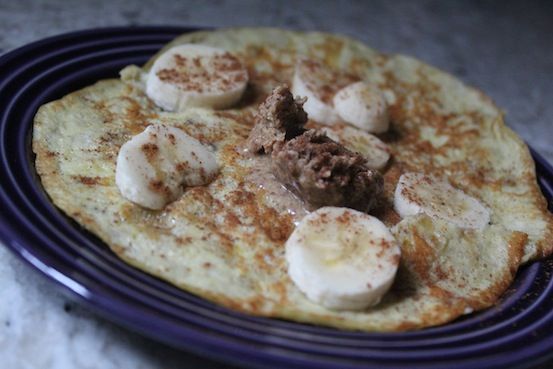 Paleo pancake
topped with banana, almond butter, and cinnamon.
Gym:
Pilates. It was rough! I am super sore from my 9 minute workout
yesterday
. Ridiculous.
Lunch: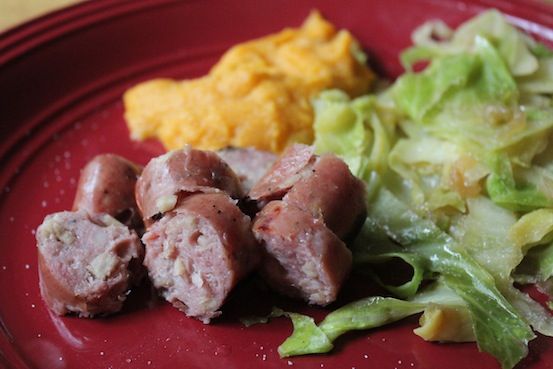 Apple chicken sausage (
not really paleo but it was in the freezer and we had no leftover protein!
),
leftover
cabbage, and leftover sweet potato mash. Random but it was tasty!
Dinner:
So that's what society thinks paleo people eat and maybe sometimes I do. Two eggs fried in coconut oil, local bacon, and homemade sausage patties. The sausage was: ground pork, sage, salt, pepper, and red pepper flakes. I need to make that a recipe. They were yummy!
On
Mark's Daily Apple
today he talks about food fatigue. Basically it's just getting tired of eating the same old same old. I didn't really forget to post my meals yesterday I was just thinking about them a little longer. The husband said he's getting a little tired of sweet potato mash so I tried to think of some new things for dinner. There's still some things that are the same.
Meal Plan #9
Monday-
Breakfast for dinner
Tuesday
-
Beef roast taco lettuce wrap
Wednesday
-
Paleo pad thai
Thursday
- Burgers and sweet potato fries
Friday
- Pulled pork and slaw
Saturday
- Chicken satay with stir fry veggies
Sunday
- Steaks, grilled cabbage, and salad