Honestly, I don't really miss the things I've cut out of my diet. I don't miss the actual food. I do, however, miss the convenience of things. I really miss the ease of cereal and yogurt bowls. The other morning the husband ate the last three eggs. Seriously, dude... you couldn't just leave one for me to make a
paleo pancake
. Typical man. We didn't have any leftovers so I created the paleo parfait.
This recipe is nutritious, 100% paleo, and so versatile.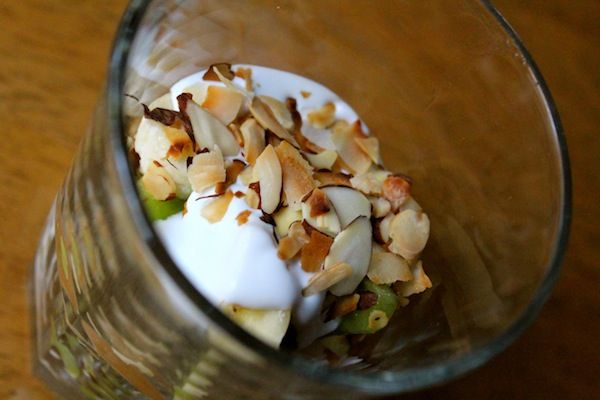 Paleo Parfait
1/4 cup nuts
1/2 cup of fruit
1/4 cup coconut milk thickened in the fridge (open a can, stir it, and put it in the fridge overnight)
Combine coconut flakes and nuts in a pan. If you are using the salted cinnamon coconut chips just add the nuts to the pan. Toast over medium heat until golden and fragrant. Layer the fruit, coconut milk, and nut/coconut flake mixture in a glass or bowl.
This doesn't have any grain in it but it made me feel like I was eating cereal! It has the same crunchy texture and the coconut milk is similar to yogurt.


You could easily do different flavor combinations.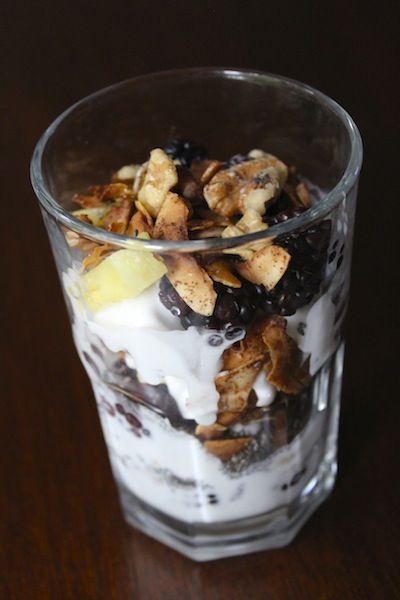 Pineapple, blackberries, coconut milk, walnuts, chia seeds, and
salted cinnamon coconut chips
. Those coconut chips are to die for! Scramble up some eggs for protein (
if your husband doesn't eat them all!
) and you've got an excellent breakfast!