When I saw the
coconut chip
recipe over at
The Primalist
I knew I had to try it.
For some reason mine didn't turn out very well. Maybe I didn't have the technique down?
When I mixed everything together it didn't really stick together like I wanted it to. All the seasoning fell to the bottom.
I came up with a solution... Coconut oil!
I ate these little guys by the handful. It was the perfect combination of sweet and salty and cinnamony (
is that a word?).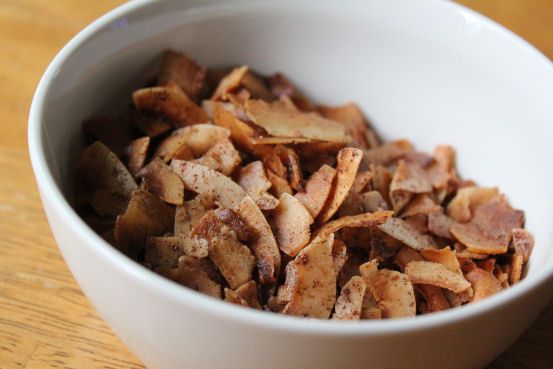 Needless to say I ate all of them in a day! The kids and the hubs liked them too!
Salted Cinnamon Coconut Chips
(adapted from The Primalist)
-1 cup of unsweetened coconut flakes
(found them at Whole Foods)
-1 teaspoon cinnamon
-1/4 teaspoon salt
-1 teaspoon melted coconut oil
Preheat oven to 350*
Mix everything together and spread the chips over a parchment lined baking sheet. Bake for about 3 minutes or until just browned. These little guys are like popcorn. Don't leave your kitchen. Keep a close eye on them. They get brown fast!
My favorite way to eat them?
On
paleo pancakes
of course.