There are so many people out there that don't do new year's resolutions. They don't like them because it sets them up for failure. If they make a resolution they know they won't stick with it so why bother.
I disagree. I think the new year is a perfect excuse to start something new. The new year puts you in the right mindset to start. Come on!
Everyone's doing it!
It actually gives us a positive excuse to make a change.
I think for the most part people make goals that are too vague and they jump in without a plan. "I'm going to eat healthier"- that won't happen because it's too vague. "I'm going to lose this baby weight"- Oh yeah? Where's your plan?
My new years resolutions this year are all about strength.
- I want to strengthen my relationship with my husband (
that'll be tricky!
)
- I want to strengthen my relationship with my children
- I want to strengthen my relationship with my mom, dad, and sister
- I want to be able to do a single pull up
- And I do want to lose the last 10lbs around my middle
Enough about resolutions.
How many resolution posts have you read? Too many?
Yeah me too
...
Another day with everything photographed. I'm on a roll y'all.
Breakfast:
Easy
paleo pancake
topped with no sugar sunflower seed butter, coconut flakes, and banana.
Plus coffee with unsweetened almond milk.
Gym:
3 mile run and an hour yoga class. My body said no but my mind said yes. Should have listened to my body this time. I'm tired.
Lunch:
Tuna salad made with 1/4 avocado,
homemade mayo
, chopped pickle, a whole can of wild tuna, salt, and pepper.
Wrapped in butter lettuce with some raw carrots.
Dinner: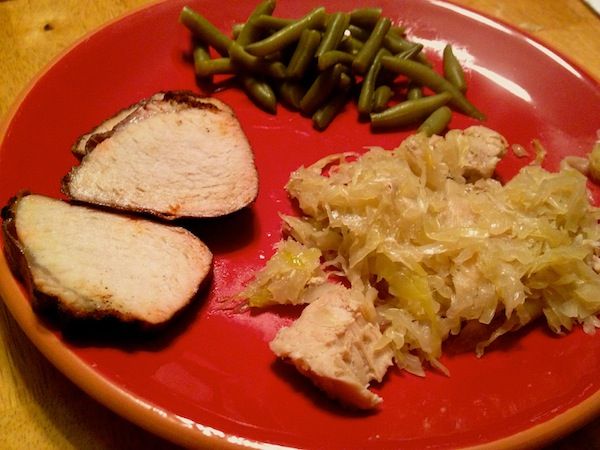 Grilled pork loin, kraut, and green beans.
Do you believe in making resolutions?