Normally I know what I've eaten all day. If I'm missing out on green veggies then I can squeeze them in. Honestly, I had no idea what I ate today. Everything was Whole30 but it was so random. I was trying to get rid of stuff in the fridge and eating things I made for meal prep at the same time.
Breakfast:
Three eggs, peppers, onions, and broccoli cooked in ghee. Plus coffee with homemade almond milk.
I ended up sharing a lot of it with LB even though I didn't want to.
Lunch:
Salt and vinegar cabbage
with two
leftover
applegate hotdogs. Topped with mustard. Strange but really good!
After lunch I started on some minimal meal prep. I didn't like it but I took everyone's
advice
and gave up the whole week meal prep thing. Instead of prepping for the week I just prepped basics and wrote a note of possibilities on the fridge.
First up was meatballs.
I made my own recipe for Italian meatballs just to make sure it was still good.
I forgot how much I love those little guys!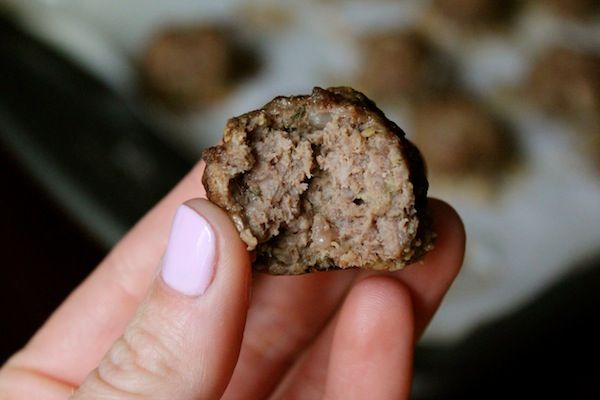 They really are an amazing meatball!
I also made a frittata for breakfast so I don't fall in the rut I was in last week.
Frittatas are easy. I got the idea from
Everyday Paleo
but have kind of made it my own. I just brown up some meat with peppers, onions, and grated sweet potato. I sprinkle everything with taco seasoning.
Then I pour 6 scrambled eggs over the top.
Bake covered at 350 until it sets and then uncovered until it gets a little brown on top.
So good and it reheats great!
I also
:
• Made sure all veggies were cleaned, chopped, peeled and ready to go
• All fruit was washed
• Made massaged kale
Dinner:
RANDOM!
See! I wasn't overly hungry because I ate three of those meatballs I made off the baking sheet. Ridiculous I know. I put some of the beef I used for the frittata aside for dinner. I have an endless supply of
salt and vinegar cabbage
so I reheated that plus the beef and topped it with fresh salsa and avocado. Plus roasted carrots and sweet potato with coconut butter. Whew.
Exercise:
Nothing!
How I feel:
I felt amazing today! Not endless crazy energy, not tired, not blah, not overly happy... I just felt like me which is exactly how I want to feel. I felt content if that describes it better.
Who is Blogging About the Whole30 in April:
If you are blogging about it let me know so I can add your name!
• Tiffany at Skinny Jeans and A Healthy Me
• Jess at Paleo Jess
• Leslie at Violet Imperfection
•
Courtney at Journey of a Dreamer
•
Emily at Emily Rocks the Road
•
Amber at Busy, Bold, Blessed
•
Naz at Cinnamon Eats
•
Claire at The Ascent Blog
•
Angie at Bullets, Boots, and Beyond
•
Fergie at fergiesbites
My Whole30 Posts
•
Day one
•
Day two
•
Day three
•
Day four
•
Day five
•
Day six
•
Day seven
•
Day eight
•
Day nine
•
Day ten
•
Day eleven
•
Day twelve
•
Day thirteen
If you are on instagram make sure you hashtag whole30april!