Thank you guys for your input yesterday! Keep in mind that the Whole30 is a learning experience. Whether you've never done it or you've done it multiple times. Everyone has a reason for doing it and everyone will make mistakes. No one is perfect. I learned from my mistakes yesterday and had an awesome day today!
Breakfast:
Three scrambled eggs, peppers, onions, and leftover broccoli all cooked in ghee. I love the ghee! It almost makes it taste cheesy.
Plus coffee and a banana. This really kept me full until lunch. In fact, I wasn't even that hungry around noon.
Lunch: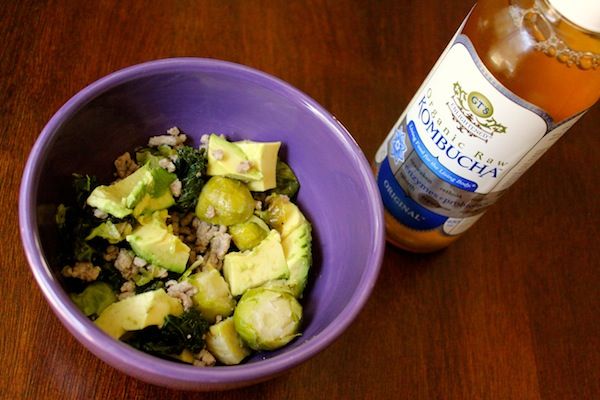 Ground pork, brussels, kale, half an avocado and kombucha.
Dinner:
Leftover spaghetti squash with meat sauce and mushrooms. Plus half of a roasted sweet potato with melty coconut butter.
Oh man those sweet potatoes tasted like dessert. I melted the coconut butter with a little coconut oil to make it really drippy.
Exercise:
One hour of yoga and 20 minutes walking on the treadmill at a pretty intense incline. I'm taking it easy at the gym this week. I was off most of last week and I'm going to let my body adjust to this Whole30 thing before I go crazy. I'm just feeling the need for yoga and pilates this week. Something about my bare feet on a mat... Don't get me wrong I love lifting heavy things too. I just go through phases.
Water:
I drank all two liters of water today. My belly was sloshing around during yoga. It might not seem like a lot of water but it really is. I'm in the bathroom all day long! I got that bone broth in...
Plus I've been drinking coconut water... Maybe every other day?
Not that stuff! That stuff is
GROSS
. It went straight in the trash. I do like the pineapple and mango flavors of that brand but nothing beats my favorite plain coconut water.
I bought a couple different coconut waters last time I was at the store.
First of all I love the pulp! It's just little chunks of coconut.
Ahhhh
. Heaven. Plus those both come in cans. I love that.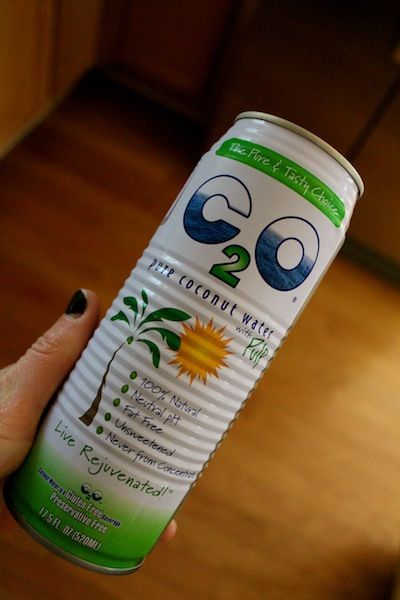 And this is my favorite brand. It's so sweet and delicious! I can't wait to drink it this summer.
How I feel:
Feeling so much better than yesterday! No headaches, no food cravings, and I was never hungry. If only it could stay like this for the next month!
Who is Blogging About the Whole30 in April:
If you are blogging about it let me know so I can add your name!
• Tiffany at Skinny Jeans and A Healthy Me
• Jess at Paleo Jess
• Leslie at Violet Imperfection
•
Courtney at Journey of a Dreamer
•
Emily at Emily Rocks the Road
My Whole30 Posts
•
Day one
If you are on instagram make sure you hashtag whole30april!