Oh man did I have a day that tested my emotional status with food. I had my day all planned out perfectly because I knew it was going to be a busy one and everything ended up all messed up.
I had to take both kids and a hurt dog to the vet first thing this morning at 7:45. I'm not sure what happened but one of my dogs had a big puncture wound on her face (
I'm guessing it was from one of my other dogs
).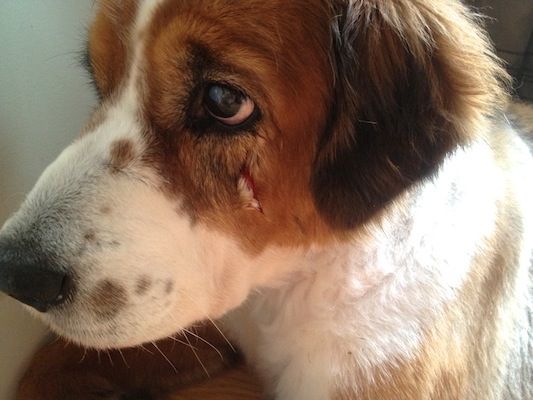 While the vet was putting staples in her face...
My four year old was puking in a trash can in the room. My two year old was running wild through the vets office and next door to us they were euthanizing a dog. It was crazy. I debated putting those pictures up but if you are at all in to animals or science you'll probably like them. Plus I've already put pictures of my
kitties amputated leg
.
We had two birthday parties to go today (
ahhh that's so mom like!
) and we attempted one. Squirrel ended up spending the rest of the day on the couch with a stomach bug. I am praying praying praying that LB and I don't get it.
One great thing about my day is never once did I want crappy food. That is
HUGE
y'all. I'm a stress eater. Not really an emotional eater. If I get sad I actually lose my appetite. But if I'm stressed I'll shove anything and everything in my face.
Here's what I did eat today:
Breakfast:
I took
leftovers
and added two eggs!
YUM
!
Lunch:
I was strapped for time and mental capacity so I just ate more
leftovers
. Straight out of the jar!
Dinner:
Oh wait how about some more
leftovers
! Ha! This time I added a grass fed beef hotdog and greens tossed with olive oil and balsamic vinegar. This was awesome.
Exercise:
I planned on going to the gym today but that didn't happen.
How I feel:
Right now I can barely keep my eyeballs open. I'm tired both physically and mentally. Caring for a sick kid is tough. Especially if you have another kid that's not sick and bouncing off the walls. I am proud of myself for not turning to food for an emotional crutch. Serious progress.
Who is Blogging About the Whole30 in April:
If you are blogging about it let me know so I can add your name!
• Tiffany at Skinny Jeans and A Healthy Me
• Jess at Paleo Jess
• Leslie at Violet Imperfection
•
Courtney at Journey of a Dreamer
•
Emily at Emily Rocks the Road
•
Amber at Busy, Bold, Blessed
•
Naz at Cinnamon Eats
•
Claire at The Ascent Blog
•
Angie at Bullets, Boots, and Beyond
•
Fergie at fergiesbites
•
Emma at A Wheat Free Life
My Whole30 Posts
•
Day one
•
Day two
•
Day three
•
Day four
•
Day five
•
Day six
•
Day seven
•
Day eight
•
Day nine
•
Day ten
•
Day eleven
•
Day twelve
•
Day thirteen
•
Day fourteen
•
Day fifteen
•
Day sixteen
•
Day seventeen
•
Day eighteen
•
Day nineteen
If you are on instagram make sure you hashtag whole30april!