First let's check in.
This week was rough with the kids...
Do I say that every week
? I had a sick kid all week long and it's still continuing. We went to the doctor today by the way. Food wise I did awesome. I was stressed and I didn't want food. That's huge! I am feeling better, sleeping better, my skin is better, and I know I've lost weight. I kind of don't want to end this thing.
How was your week? Go link up with Courtney!
Breakfast:
Three eggs, broccoli, peppers, and onions cooked in ghee.
Lunch:
Chicken salad (
chicken, avocado, grapes
) on spinach and some overdone kale chips. That was such a great combination! The grapes, avocado, and shredded chicken. I also added some onion powder, garlic powder, salt and pepper. You gotta try it!
I was too busy making these guys...
To pay attention to my kale chips! They got a little crispy.
Dinner:
Speaking of those guys...
These were awesome. I made
PaleOMG
's turkey stuffed twice baked sweet potatoes around lunch time for dinner.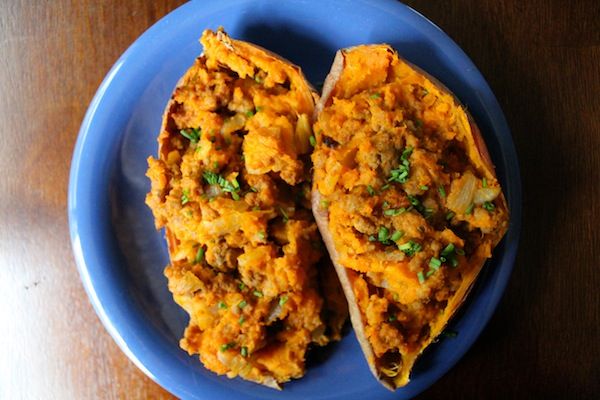 They reheated well and were so good. If you haven't bought
Juli's
cookbook you should.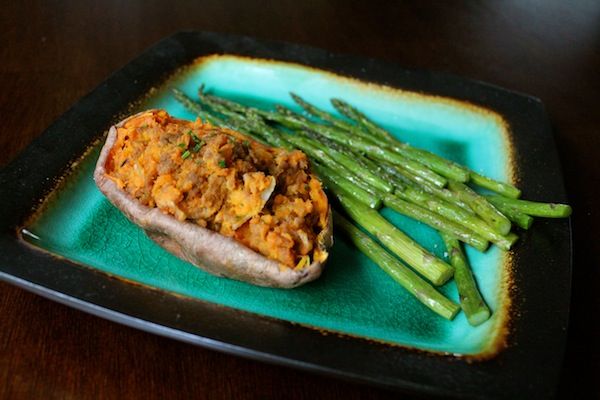 Plus I made roasted asparagus. Such a simple and delicious meal.
Exercise:
None.
How I feel:
Felt a little blah today. I woke up in a funky mood. Not all days will be perfect... I did have a great day of eating though. Everything was satisfying!
Who is Blogging About the Whole30 in April:
If you are blogging about it let me know so I can add your name!
• Tiffany at Skinny Jeans and A Healthy Me
• Jess at Paleo Jess
• Leslie at Violet Imperfection
•
Courtney at Journey of a Dreamer
•
Emily at Emily Rocks the Road
•
Amber at Busy, Bold, Blessed
•
Naz at Cinnamon Eats
•
Claire at The Ascent Blog
•
Angie at Bullets, Boots, and Beyond
•
Fergie at fergiesbites
•
Emma at A Blissful Life
My Whole30 Posts
•
Day one
•
Day two
•
Day three
•
Day four
•
Day five
•
Day six
•
Day seven
•
Day eight
•
Day nine
•
Day ten
•
Day eleven
•
Day twelve
•
Day thirteen
•
Day fourteen
•
Day fifteen
•
Day sixteen
•
Day seventeen
•
Day eighteen
•
Day nineteen
•
Day twenty
•
Day twenty one
If you are on instagram make sure you hashtag whole30april!