*Hey you guys... I just opened up Disqus and saw a ton of comments that I had to approve! I didn't know I had to approve comments. I'm sorry if I didn't respond or if your comment didn't post! Disqus is still new to me!*
Breakfast:
Oh no you thought that
pork mixture
was gone...
Sooo did I
. I'm thankful that was the last of it! On to new things this week!
Lunch:
A
leftover
burger, a hard boiled egg, and avocado.
Plus a side of
leftover
carrot fries with a mix of coconut butter and coconut oil.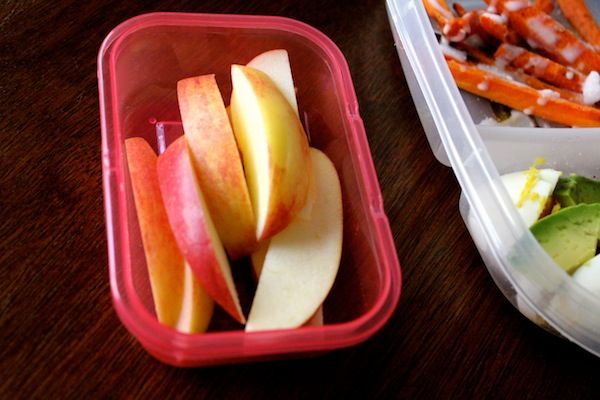 And an apple. We did the March of Dimes this morning so I packed everyone a lunch. I'm getting much better at packing a Whole30 lunch!
Dinner: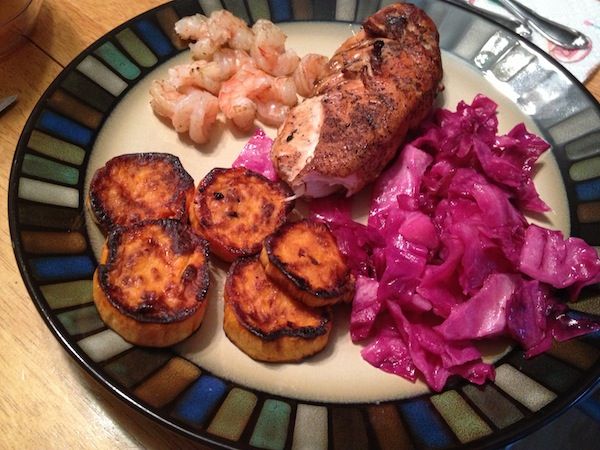 I had dinner at my parents. We did grilled shrimp and chicken. I also brought some sauteed cabbage and
low and slow sweet potato
. My family doesn't care if I bring my own food! No one takes any offense because they all know I eat weird.
Exercise:
Three mile walk for the March of Dimes.
How I feel:
I felt amazing today. No headaches, I'm not hungry, and I have a ton of energy. I feel like I got this! I hope it doesn't change.
Who is Blogging About the Whole30 in April:
If you are blogging about it let me know so I can add your name!
• Tiffany at Skinny Jeans and A Healthy Me
• Jess at Paleo Jess
• Leslie at Violet Imperfection
•
Courtney at Journey of a Dreamer
•
Emily at Emily Rocks the Road
•
Amber at Busy, Bold, Blessed
•
Naz at Cinnamon Eats
•
Claire at The Ascent Blog
My Whole30 Posts
•
Day one
•
Day two
•
Day three
•
Day four
•
Day five
If you are on instagram make sure you hashtag whole30april!