Week ONE:
When Courtney mentioned a weekly check in link up I was totally in! I want to know how everyone did because honestly it's been a little tough for me. Here's some random thoughts from week one:
• I miss the foodie things I do with my kids.
• I've already been thinking about what I'm going to add back to my diet and what I'm going to leave out.
PALEO PANCAKES
.
• I miss paleo pancakes.
• If I had to give up coffee I don't think I could do the Whole30. I'm keeping coffee minimal and before noon.
• I haven't been focusing on the gym very much. I think that's ok because I'm really focused on what I'm eating right now.
• I feel great. I usually have a down week once a month... You know... and that is this coming week so we'll see how it goes!
Breakfast:
Still loving this mix
. Three eggs, broccoli, peppers, and onions cooked in ghee.
Lunch:
I snacked on a few almonds while I made lunch. I had them out to soak to make almond milk. I didn't eat too many amazingly. My will power is getting much better!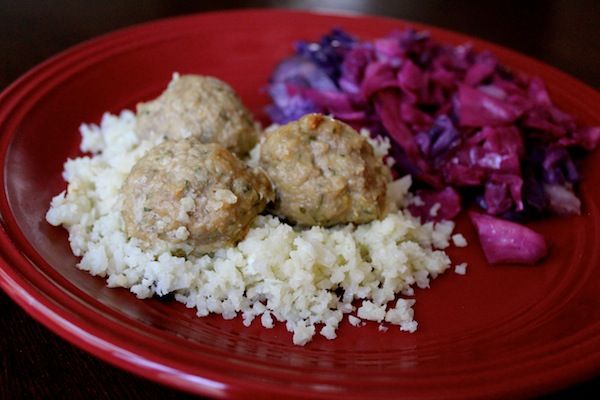 I reheated those
chicken meatballs
, cauliflower rice, and sautéed cabbage. Cabbage gets old... really quick... and I have so much cabbage. Blah.
Dinner:
Beef, broccoli, carrots, and bok choy with
sunshine sauce
on top.
Exercise:
No gym today. I had to take the dogs to the vet.
How I feel:
Another great day! I didn't even have an afternoon lull.
Who is Blogging About the Whole30 in April:
If you are blogging about it let me know so I can add your name!
• Tiffany at Skinny Jeans and A Healthy Me
• Jess at Paleo Jess
• Leslie at Violet Imperfection
•
Courtney at Journey of a Dreamer
•
Emily at Emily Rocks the Road
•
Amber at Busy, Bold, Blessed
•
Naz at Cinnamon Eats
•
Claire at The Ascent Blog
•
Angie at Bullets, Boots, and Beyond
My Whole30 Posts
•
Day one
•
Day two
•
Day three
•
Day four
•
Day five
•
Day six
•
Day seven
If you are on instagram make sure you hashtag whole30april!