First of all, thank you guys for your kind words
yesterday
. I get an alert on my phone every time someone comments on here and so your comments made me feel better all afternoon. That's one of the reasons I blog-
great support group with amazing blogger friends
.
Second of all, I took everyone's advice the
other day
about meal planning. My meal planning changed drastically. Actually, you might not see much meal prep on here... I'll explain more later. Another reason why I blog-
advice and accountability from those amazing blogger friends.
Third of all, I checked in with my list of whole30 bloggers today. You guys are amazing. Need another reason why I blog?-
inspiration from those amazing blogger friends!
Breakfast:
Beef, broccoli, bok choy, and carrots. Topped with
sunshine sauce
.
Lunch:
Leftover
paleOMG glazed blackberry pork chops with cauliflower rice.
I was hungry this afternoon so I made a snack of one hardboiled egg and a little bit of avocado mashed together.
Dinner: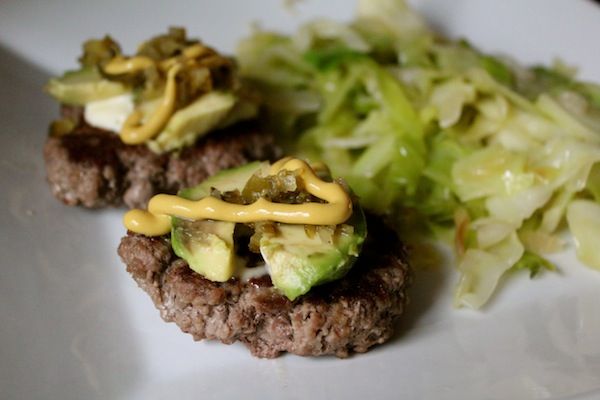 I love burgers. I topped these with homemade paleo mayo, avocado, mustard, and relish. All whole30 approved. Plus a side of
salt and vinegar cabbage
.
Tonight was pizza, popcorn, and a movie night for us. Last Friday I felt pretty left out so this Friday I was prepared.
I ate a little snack with the kids. Defrosted berries nuked in the microwave for about 30 seconds. Topped with sliced almonds and homemade almond milk. I didn't even want the popcorn!
Exercise:
Does pushing a grocery cart count? That's what I did instead of going to the gym.
How I feel:
I scrambled out of bed this morning at 5:30. I have been setting my alarm for 5:30 instead of 6 so I have more alone time. The little birds wake up at 7 so I have from 5:30-7 to shower and then do whatever I want. I'm not sure if it's the whole30 or the fact that I get time by myself with coffee that jolts me out of bed. Either way I love it.
I hit a little low this afternoon. I felt just blah. Blah with this whole30 thing, blah with the way my body looks, blah.... Has anyone else had that?
Who is Blogging About the Whole30 in April:
If you are blogging about it let me know so I can add your name!
• Tiffany at Skinny Jeans and A Healthy Me
• Jess at Paleo Jess
• Leslie at Violet Imperfection
•
Courtney at Journey of a Dreamer
•
Emily at Emily Rocks the Road
•
Amber at Busy, Bold, Blessed
•
Naz at Cinnamon Eats
•
Claire at The Ascent Blog
•
Angie at Bullets, Boots, and Beyond
•
Fergie at fergiesbites
My Whole30 Posts
•
Day one
•
Day two
•
Day three
•
Day four
•
Day five
•
Day six
•
Day seven
•
Day eight
•
Day nine
•
Day ten
•
Day eleven
If you are on instagram make sure you hashtag whole30april!